POWERFUL
Scalable Cloud Scheduling Solutions

Patients can securely book appointments with their Clinic and/or Provider 24/7 from any computer or mobile device. Our user-friendly Patient Portal allows Patients to easily manage their data, appointment history and cancel appointments if necessary.
VIDEO - MOBILE
✔ FREE Text Notifications & Reminders
✔ Text & Email Appointment Confirmations
✔ Register As A Walk-In
✔ "Schedule Now" Button For Your Website
✔ Live Person Technical Support
✔ Text Verification For New Patient Accounts
✔ Outlook, Google & Apple Calendar Integration
✔ User-Friendly Patient Portal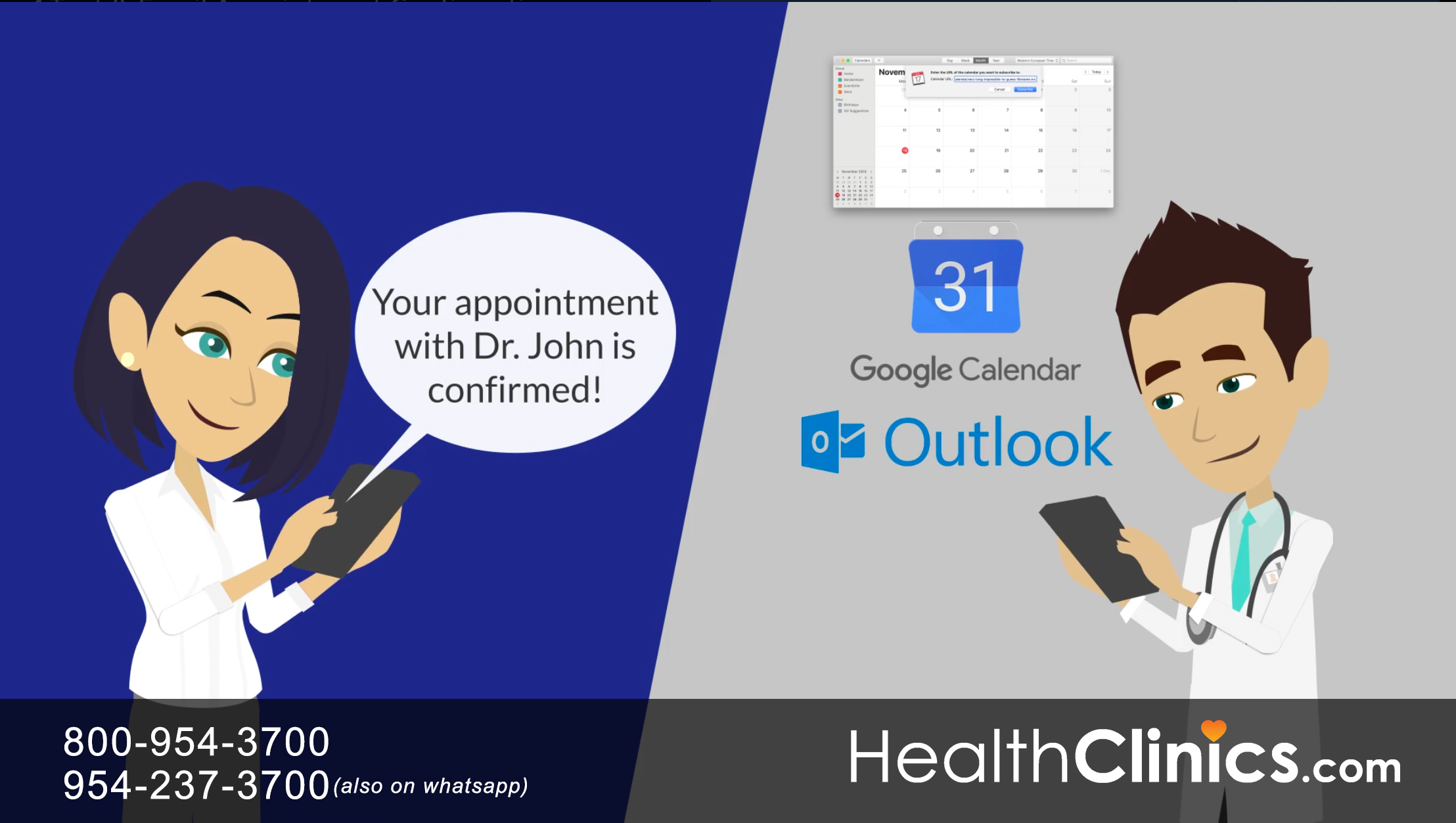 HealthClinics.com is scaleable and provides several ways to accept Patient bookings.  Admin can manage the schedule of multiple Doctors belonging to the same Health Clinic, Urgent Care or Private Practice.  If you're not ready to fully automate your scheduling process, you can disable Patient access to your schedule and manage appointments the traditional way.
Slide
We make it easy to manage multiple Doctors of different specialties within one facility. 
It is a simple transition to full automation when you're ready to take the plunge!
Clinics

Activate or deactivate Doctor profiles, only paying for what you need at the time
Patients can contact each Doctor individually or the Clinic itself
Manage schedule for multiple Doctors
Manage multiple specialties in one account
Admin can assign or change a Doctor after the appointment is booked
Integrate appointment scheduling into your website
Run HealthClinics platform with full branding using your own domain
Cancellation notifications sent to Doctors and facility

Disable unavailable time slots from showing
Automatic text or email appointment confirmations and reminders to Patients
Live agent option (coming soon)
Cancellation notifications to your email
Provide multiple appointment slots for one time (ie: allow 3 bookings for 9am)
Accept appointments up to six months in advance
Individual profile page for every Doctor in your facility
Enable or disable option for "Walk-In" visits
Save all booked appointments in Microsoft Outlook, Apple Mail and GMail

Book and cancel appointments online 24/7
Booking history for all Doctors and facilities visited
Send direct message to Doctor or facility
Receive appointment time reminders via text messaging or email
Select preferred available Doctor
Schedule appointments from a desktop or mobile device
Sign-in as a "Walk-In" and wait on premise for the next available time slot if all appointments are taken. Patient will be notified via text message when an opening is available

USA: 954-237-3700 | UK: +44 1908 538188
SMALL BUSINESS HOSTING
This feature can be an add-on or stand-along service
e-COMMERCE HOSTING
Includes all features for Doctors & Patients
e-COMMERCE HOSTING
Includes all features for Clinics, Doctors & Patients
e-COMMERCE HOSTING
Increase your online exposure & list your Facility